Hotel in Jaipur - Services and hotel features
360º - PUB / Multi Cuisine Restaurant

Features

▪ Spacious Air conditioned rooms
▪ Direct Telephone
▪ Direct Satellite Color Television
▪ Laundry Services
▪ Doctor on Call
▪ Local tour services
▪ 24 hour Room service
▪ Hot and cold running water
▪ Travel desk and Ticketing

▪ Centrally Located in Jaipur
▪ Most Posh and Peaceful Area
▪ Modern Banquet Hall / Conference Hall
▪ In-house Vegetarian Restaurant
▪ Cafe Coffee Day Outlet
▪ Pub & Multi-cuisine Restaurant
▪ All side open Opposite to Deer Park
▪ Jogging Track and Gym in close vicinity
▪ Wifi Internet access
▪ Accepts all major credit cards
The Shikha hotel in Jaipur provides all major facilities and services that may be required by the holiday or a business traveler to Jaipur. We are continuously improving and adding new services to make your stay in Jaipur a memorable one.
360º - Outdoor Multi Cuisine Restaurant

Experience one of the most professionally managed hotel in Jaipur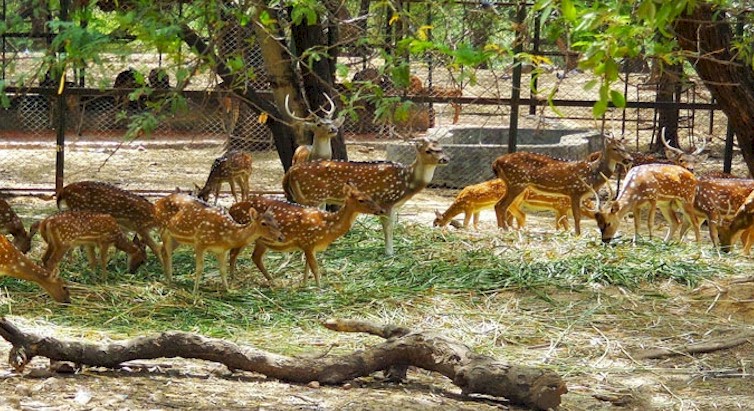 The Deer Park as visible by a Tele-photo lens from Hotel Shikha Jaipur
The Shikha hotel is the only hotel located opposite deer park, and is the only hotel in that locality. The area is peaceful and residential, with natural surroundings that makes it even more relaxing.
The hotel is in close proximity to all the major historical places in Jaipur, government offices, parks and Jaipur shopping arcades. Yet this Jaipur hotel is located in a peaceful, very secured and posh area very close to government offices in Jaipur. If you are looking for a quite and peaceful stay with lots of fresh air and light, then we are at your service.